Egg Curry is one dish that you can prepare for your family and friends anytime and in any season, as it doesn't require much ingredients to cook. Here is a non-vegetarian version of egg curry that has shrimps in it and it is a mouth-watering dish that you can enjoy enjoy with a simple chapati or even steamed rice! Shrimp and Egg Curry is an easy-to-make main dish recipe cooked using shrimps, coconut milk, onion, tomato, tamarind paste, boiled eggs, and a melange of spices. This curry recipe is best suited for occasions like kitty party, pot luck and even game night; and we are sure your guests will love it and will be asking more of it! Try this easy recipe and enjoy with your loved ones!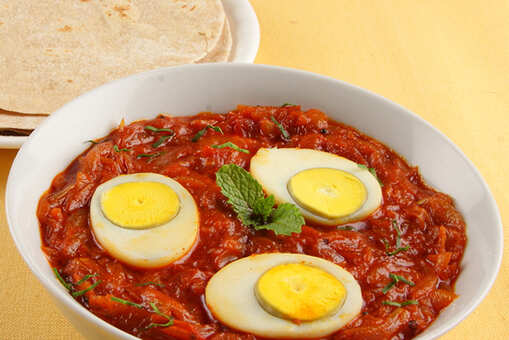 Ingredients of Shrimp and Egg Curry
600 gm shrimps
75 ml refined oil
24 curry leaves
15 gm ginger paste
6 gm red chilli powder
250 ml coconut milk
pinches salt
4 egg
200 gm chopped onion
20 gm garlic paste
8 green chillies
2 tomato
2 tablespoon tamarind paste
How to make Shrimp and Egg Curry
Step 1To prepare this mouth-watering egg curry recipe, put a sauce pan on medium flame and add water in it along with tamarind paste, bring it to a boil. Lower the flame and let it simmer until reduced to a quarter.
Step 2Next, heat oil in a deep-bottomed non-stick pan on medium flame and add chopped onions in it along with curry leaves. Saute until light golden and then add garlic-ginger paste, green chillies, and red chilli powder in the pan, saute until the moisture is evaporated.
Step 3Then add tomatoes (ensure it is sliced and the pulp is removed) and stir-fry until oil leaves the sides. Afterwards, add shrimps in the pan and stir for a minute. Remove the pan from heat and stir-in the coconut milk, return the pan to heat and bring it to a boil. (Note: Make sure that it does not come to a bubble or the coconut milk will curdle).
Step 4Cook the shrimps in coconut milk until the gravy is of thick consistency. Now, add tamarind paste (prefer to use tamarind pulp) and salt in the prepared curry, and bring it to a boil. Transfer the shrimp curry to a serving bowl, and garnish with boiled eggs, cut into half and serve with steamed rice.